Second weekly post to update you on what has happened in Poole Park this week, and what to expect next week.
The improvements to the lakes and lagoon have progressed at quite a pace this week. Ebsford Environmental have been very busy finishing the dredging of both freshwater lakes. Large quantities of sediment have been dug up from the bottom of the lakes and deposited on the banks, making them wider and higher in profile. These will be left to settle behind the new post and membrane edges and rock boulders. These areas will be planted in March/April – keep an eye out for volunteer tasks to help with this.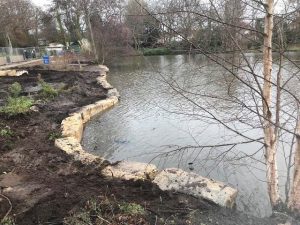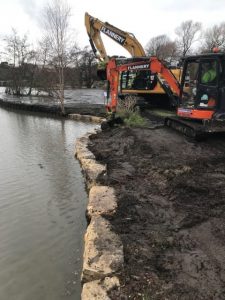 Out in the lagoon the diggers have been creating profiles to allow the water in the lagoon to drain to the sluice channel more effectively and setting out for the main dredging work. This will make the lagoon deeper in places and new islands a promontory will be created. The island nearest The Kitchen has had new edging started to be installed to help protect it from wave action and the movement of Geese and Swans, Some of these islands will be topped up with sediment as well.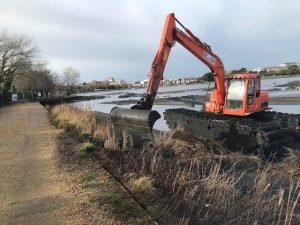 The model yacht club area has had some improvements as well, with the lagoon walls having sediment heaped at the base to prevent under-mining, whilst leaving some deep water areas for them to launch from.
The semi-circular feature nearest to Middle Gate car park has been removed (photo below). Read the background on that here, the material and plants have been moved a bit further out to create a smaller area, providing more space for water to circulate near the lagoon walls.
On Whitecliff Road the drain gullies have been unblocked to relieve the flooding on the approach to keyhole Bridge. The flooding under the railway line is also to be addressed, along with patching of pot-holes.
Next week the focus will be on improving the existing islands in the lagoon and more dredging. Gabion baskets are being constructed for the edge of the freshwater lake behind The Ark and this construction should start to take place.
We still await confirmation from Network Rail that they can approve the safety plans for the replacement bridge over the sluice channel. Avon Construction will be setting up the site and making preparations to start, fingers crossed!!
There is a Guided Walk at 11am Saturday February 9th, meet at the front of The Ark for a gentle stroll and explanation of the history, ecology and construction works.
On Thursday 14th February, 2pm-5pm, we will hold a litter pick around the edges of the existing lagoon features, taking advantage of the low water.