The various improvements that were made at the start of the year have settled in and park users, water-sport participants and the wildlife are getting used to the new and improved features.  There are a number of items outstanding and other pieces of work taking place to provide an update on:
Winter birds using the lagoon. During the works when the lagoon was held at a very low level for a long period of time over-wintering birds really enjoyed feeding on the worms and other invertebrates in the exposed mud. We have been considering replicating this situation but the current sluice gate arrangement unfortunately does not make this possible.
Bournemouth University's Global Environmental Solutions team have been contracted again to research the ecology of the water bodies over the next couple of years, as well as use a drone to survey the lagoon when it is drained down to different heights. This will then tell us at what level we would need to drain the lagoon to make it effective for wading birds to use the lagoon to feed in regularly. At the same time we are looking at options to improve the sluice gate so that the water level can be managed more precisely than is currently possible.
Photos: left: view from the bridge of the Sluice gate and channel, right: the gantry above the gate and the water depth boards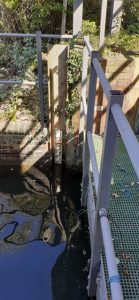 Planting and island improvements. Ebsford environmental will be back in the early spring to undertake more planting of the islands and other features. Establishing vegetation on areas of excavated sediment is difficult and was anticipated to take a couple of phases. At the same time adjustments will be made to the levels of the promontories around the bird screens. It will be interesting to see what vegetation starts to establish after the winter, and what can then survive the attention of the geese populations.
Speaking of Geese, you may recall the project earlier in the year that rounded up Greylag geese in Poole Park, in order to gather information on their size, weight, sex etc and also to ring them so they can be identified in the wild when they move away from Poole Park at the end of the summer. The student behind the project, Thomas Weston, publishes regular updates and is keen to receive any sightings, get in touch if you would like to know more: pooleparkgreylags@gmail.com
On site information.
It is important that there is on-site information for park users so that the heritage, history, wildlife and improvements that are taking place are communicated and people can learn more about Poole Park. We are currently working on new information panels for the birds you can see in the park and to the linked promotion of Only Rain Down the Drain and what to feed birds on the water.
Long-term we will be commissioning a piece of work to improve all of the park signage, information and way-finding.