Volunteering in Poole Park
Gardening, Litter Picking, Guiding Visitors - can you help?
Gardening Volunteers
Would you like to take part in gardening volunteering in Poole Park?!  This can involve pruning, weeding and clearing as well as eating cake! No experience needed, all tools are provided, just bring suitable footwear and old clothing. We work and meet at different parts of the park depending on the task that day so please contact Toni Powell for details (contact information below).
Sessions are normally 3 hours but if you can only do part of this or simply want to come and say hello, you would be very welcome!
Our winter 2018/19 Garden Volunteer dates are as follows:
Thursday 29th November, 1pm to 4pm – Preparing the Rose Garden for planting
Saturday 15th December, 10am to midday – Christmas Walk and Volunteer Social!
Thursday 31st January, 1pm to 4pm – Tasks TBC
Thursday 28th February, 1pm to 4pm – Tasks TBC
Please get in touch if you would like to take part, we always have a range of tasks to suit everyone.  No experience is necessary and all tools are provided:
Toni Powell, Community Engagement Officer

Telephone 01202 261757 or

Email: toni.powell@poole.gov.uk.
Thank you.
Poole Park Kiosk
The Information Kiosk is undergoing a revamp! Volunteers have been re-painting the outside and we plan to improve the display inside so that it reflects works and activities taking place within the Poole Park Life project.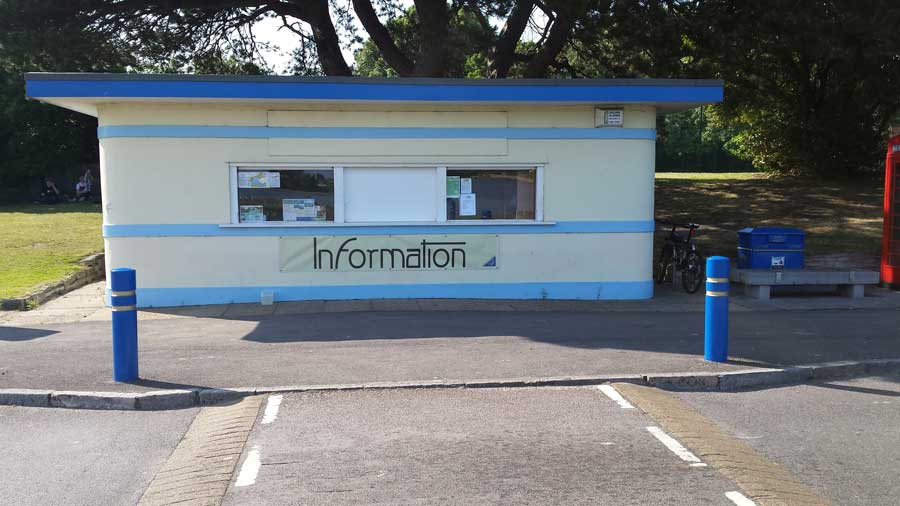 Kiosk Information helpers
The Kiosk can only open to the public after the revamp if we have enough people willing to spend a few hours overseeing the display. The role involves telling visitors about the works and activities taking place in the park, providing basic information regarding Poole Park's heritage and running simple activities such as a Heritage Quiz or Nature Table.
How? All volunteers will be trained and supervised how to undertake this role in their first or more sessions, and will only be asked to run sessions without 1:1 support once they feel confident to do so.
Please contact Toni Powell if you would like further details about this volunteering opportunity; you can email Toni at toni.powell@poole.gov.uk or call 01202 261757.
Thank you.