An awareness campaign to help prevent pollution
Did you know the street drains outside your home are only designed to take rainfall and lead, untreated, straight to Poole Park lakes and lagoon?
This is the message we sent out in July 2018 to more than 2,000 residents and businesses within the lakes and lagoon catchment area.
The mass mailing of information cards was the first activity in a 'Only Rain Down the Drain' campaign which involves us working with the Litter Free Coast and Sea team and Wessex Water to help prevent water pollution in the Park.
Drain Marking
The mailing was followed up with drain markings, and a large piece of artwork created around a drain near the shops opposite the Civic Centre.
The aim is to create attention and awareness for the campaign. The paint will only last a few weeks, so please enjoy while it lasts!
Lagoon Volunteer Day July 2018
Lots of fun and informative activities were enjoyed in Poole Park on Lagoon Volunteer Day, 12th July, supported by Litter Free Coast and Sea team, Wessex Water, Rockley Watersports and Natural England.
Local volunteers joined St Mary's Catholic Primary School in a litter pick of the drained lagoon, whilst some of our garden volunteers helped to fix willow fencing on the lagoon islands. Despite the hard work, fun was had in the thick mud!
The Litter Free Coast and Sea team and Wessex Water used a water wall to demonstrate how people can help prevent water pollution from their homes, whilst Natural England and our Biodiversity Officer provided information (and samples!) of wildlife that can be found in Poole Park Lakes and across Poole harbour.
Finally Rockley Watersports started work on creating the panels of a large raft made out of used plastic water bottles.  The raft was completed and tested out at the Poole Park Fun Day on 2nd August. 
Only Rain Down the Drain
Highlighting this message is really important for the future of the salt water lagoon in Poole Park.
Traditionally managed as a boating lake, over recent years the potential value to wildlife of the salt-water lagoon has been realised. Once a month water is exchanged with Poole Harbour through the sluice channel, bringing in new salt water which means that a wide range of animals can live in Poole Park's lagoon that wouldn't survive in a freshwater lake environment.
On our Lagoon volunteer day we found several of these species, including sea squirts, an eel, shore crabs, young Goby fish and tassel weed which is a rare lagoon plant. Very difficult to see, but a rare specialist living in Poole Park is the Starlet Sea Anemone, a small creature that lives in the mud at the bottom of the water that is as endangered as the red squirrel.
All the wildlife in the lagoon needs the best quality water to allow them to flourish; ensuring that only rain goes down the drain is the best way for us all to help them.
Other planned improvements will help create more habitat features for fish, crabs and birds; you can find out more about them at our Lakes and Lagoon project theme page.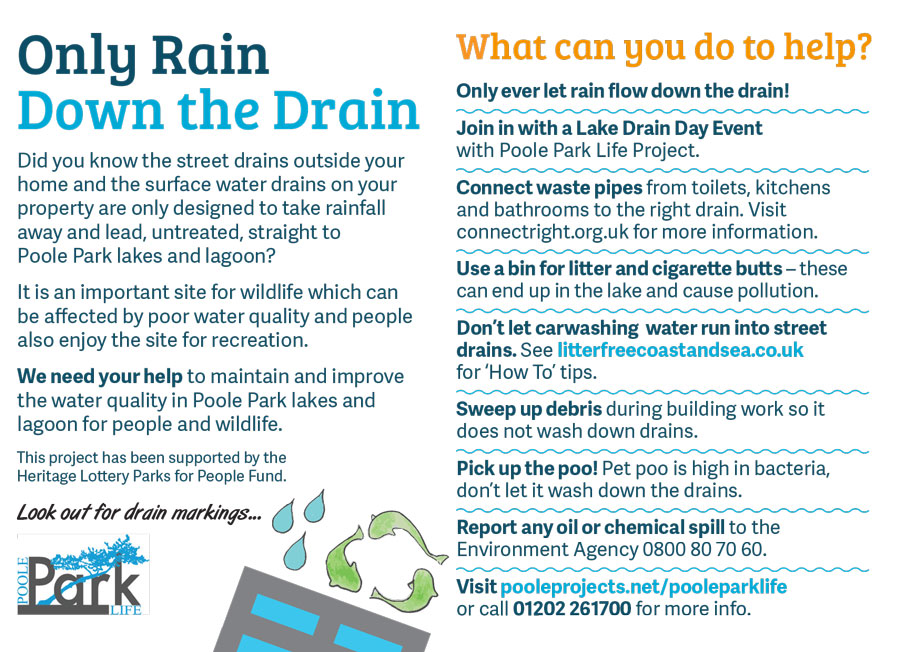 The message and the advice distributed to local residents and businesses