Poole Park Miniature Railway
NEW 19th December 2018
Railway to reopen in 2019!!
The Borough of Poole is investing up to £350,000 to secure the long term future of the much loved Poole Park Miniature Railway. Many enhancements will be made to the service including:
a redesigned and relayed track
a brand new train and carriages
improved access and safety features
improvements to the train shed and storage compound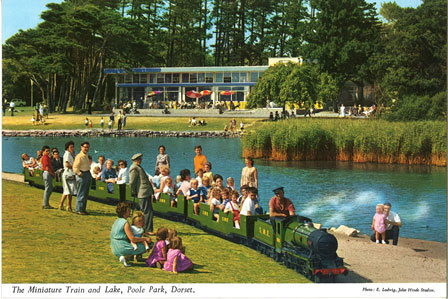 The railway service, which has been running under private management in Poole since 1949, was suspended during 2018 following a number of derailments, service interruptions and personnel issues. When it reopens in 2019, the service will be managed by professional Borough staff working alongside dedicated local volunteer enthusiasts.
Project progress
Ground investigation surveys are now being carried out, which will involve some track lifting and taking boreholes. Work will then start on the design of the new railway.
Subject to design approval and planning permission, we aim to start construction works in spring 2019 and to reopen the attraction during summer/autumn of the same year. 
Cllr John Rampton, Cabinet Portfolio Holder for Environmental Services, Borough of Poole, said: "I am delighted that we will be delivering an exciting and well thought out solution, that puts the long-term future and safety of Poole Park railway first, and allowing us to provide a reliable, first-class service of a much loved feature of Poole's premier park.  "I would like to thank all those involved for their hard work to get these proposals on track, now it is full steam ahead!"
Budget & funding arrangements
The project budget is £350,000, funded via prudential borrowing which will be repaid by income generated from ticket sales.
Poole Park Miniature Railway Station
Parks & Open Spaces Newsletter; please click here to subscribe to a regular copy