Hamworthy Park improvements 2019
Updated 5th March 2019
Paddling Pool refurbishment
In partnership with the Friends of Hamworthy Park
*Update* Tuesday 5th March
Key milestone reached
The refurbishment project has reached its first key milestone. Over 100 bored reinforced concrete piles are being installed to improve ground stability of the new pool. These piling works will take a few weeks to complete and will create a firm foundation for the pool.
This phase of work will be followed by alterations to utility supplies and the installation of a reinforced concrete slab. Cast in sections and connected by watertight movement joints, this protects the pool against changing water levels from tidal flow and localised flooding
Cllr John Rampton, Cabinet Portfolio Holder for the Environment, Borough of Poole, said: "This popular paddling pool has provided endless family fun over the last 80+ years, so it's great to see such extensive foundation work being carried out to ensure this free facility can be enjoyed by future generations too.
"Residents and visitors are really excited to see the refurbishment of their new pool from the ground up. We look forward to following its progress to the point where we are able to dip our toes into the pool for the first time."
Pat Bullock from Friends of Hamworthy Park, said: "With the full support of the community, we are delighted that works have started and we are very much looking forward to seeing the finished pool."
The project is on schedule for completion before the coming summer.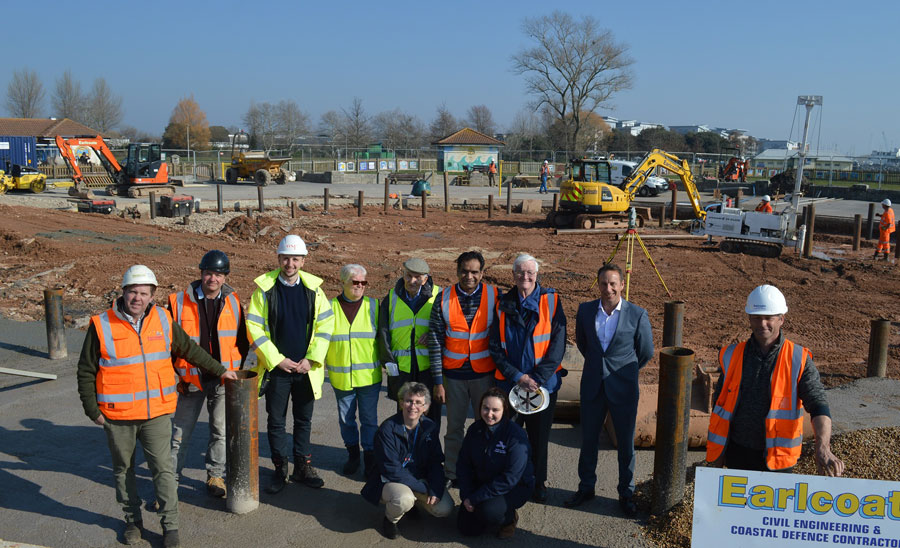 Contractors, Ward Councillors, Friends and Recreation Team officers gather to mark the project's first milestone
Monday 18th February
Diggers have moved onto the site and work is well underway to refurbish the attraction. Contractors have removed the original paddling pool base, as well as the coping stones, and exposed the pool drainage.
Piling will now commence, expected to continue for two weeks, allowing the installation of 114 bored reinforced concrete piles to support the new foundations.
Wednesday 16th January
We are delighted to confirm that pool refurbishment works will commence in February, and will include:
removal of original base,
installation of a new reinforced concrete slab and wall, fitting within the existing area, and new coping stones around the edges,
114 bored reinforced concrete piles pinned to the new foundations – the largest pile measuring a radius of 250mm and going down to 10m below ground level to support the new slab,
to improve water quality, the location of the beach slope feature will move to the west of the pool.
The paddling pool is a popular feature of the park and has been a favourite destination for both local families and holiday makers for generations. The pool is freely accessible, without charge, and normally open annually from May to September.
The majority of funding for this project has been sought from Borough of Poole Community Infrastructure Levy (CIL), Planning Obligations, and Capital Contingency, and includes £31,000 fundraising contribution from the Friends of Hamworthy Park.
Refurbishment of the paddling pool follows a number of other recent improvements at Hamworthy Park, which have included new footpaths and signage, together with play and landscape improvements – details here
Hamworthy Park
Lulworth Avenue
Hamworthy
Poole BH15 4DH