Privacy Policy • Cookie Guidance
© 2014 Borough of Poole Environmental Development Team, Unit 1 Newfields Business Park, 2 Stinsford Road, Poole BH17 0NF. All rights reserved.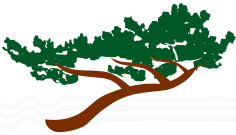 Green Road play area Poole Old Town
Last news update: 2nd May 2013
Click on any image to enlarge it / view the photo gallery:
Project Details
Budget: £110,000
Funding: Planning Obligations (Poole Town) £90,000 and Poole Housing Partnership £20,000
Totem Poles sculpted by Karen Hansen
Lead Officer Mike Gotobed • 01202 265265 • Email Mike
This play project, including all the community engagement, totem pole design and the opening events, have all been organised by the local 'Green Road Play Park Group'
The official openings
1st May 2013 - Following on from last year's re-design and landscaping, new seaside-themed totem poles were designed with the help of local children and sculpted from sweet chestnut by local artist Karen Hansen; we celebrated in the sunshine with the Mayor and the local community! (photos below)
19th July 2012 - Green Road play area was officially re-opened by the Mayor of Poole, Cllr Carol Evans with a fine collection of fancy dress pirates to help her.
Improvements included the removal of old play equipment and installation of new equipment and seats, a new footpath through the site and re seeding of grass areas. The centrepiece is a 4.5m high timber pirate play ship.
The Green Road Play Park Group decorated the pirate ship, displayed images of their hard work that brought the park to fruition and also arranged for the Town Crier and Poole Marching Band to be part of the celebrations.
This project has massively improved the old play area at Green Road in Old Town Poole.
Poole's Environmental Development Team worked on the design with the local 'Green Road Play Park' community group which included Paul Bradbury, Pioneer Minister for central Poole, parents of children attending Old Town First School and representatives of the residents of Grace Darling Court, an EPD* adjacent the play area .
The community group led dialogue with the school, playground users and the community to arrive at the new layout. This consultation culminated in an event at the play area on 20th October 2011 at which the scheme was presented to the public.
The finished design is fantastic and the play area is a brilliant new addition to the range of play experiences across Poole.
The 'natural play' theme is based around a pirate play ship with play experiences provided for as wide an age range as possible. Poole Housing Partnership kindly donated £20,000 towards the scheme which was otherwise funded using Developer Contributions (also known as Planning Obligations funding).
*An EPD is an elderly persons dwelling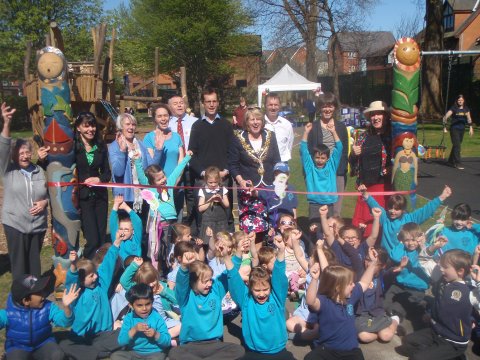 Declaring the new Totem Poles 'open' with The Mayor, Cllr Carol Evans
The official re-opening of the play area, 19th July 2012