Privacy Policy • Cookie Guidance
© 2014 Borough of Poole Environmental Development Team, Unit 1 Newfields Business Park, 2 Stinsford Road, Poole BH17 0NF. All rights reserved.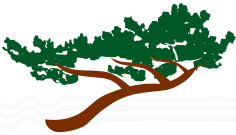 The new Stanley Green Park, Christopher Crescent
Last updated: 1st June 2013
All works are completed and the park officially open! The ball court has been installed, and turf has been laid on the informal pathways in from the road (which raises the levels to avoid future drainage issues). The wildflower mounds are slowly greening up.
The mounds and seeded areas will stay fenced off for some time to give them the best chance of establishing.
'Log hops' surround the ball court to stimulate natural play along with upturned Sweet chestnut trunks that form a bespoke feature.
Grand Opening Event
29th May 2013
Hundreds of people joined together to celebrate the opening of Poole's newest park, Stanley Green Park. The event was organised by the Borough of Poole's Environmental Development Team and Poole Housing Partnership.
The Mayor, Councillor Phil Eades, declared the park officially open by cutting the ribbon on the ball court and followed this by challenging the local young people to a football game.
The fun continued all afternoon with sports coaches, a bouncy castle, face painting, environmental education with the Urban Heaths Partnership, sunflower planting, circus skills, healthy eating with Tesco, plant and cake sales from COAST a team of adults with special needs, a DJ workshop, ice creams and Poole Housing Partnership information stands, all for free!
The park has been transformed from an underused open space into a park with facilities and habitat for people and wildlife. All of the 740 plants and 50 fruit trees were planted by volunteers and local school children to make this an edible oasis.
A big thank you to all those who have helped to create this fantastic new facility for Poole's community.
With this project we have created a community park and natural habitat for wildlife that includes wild flower meadows, grass meadows, flowering trees and shrubs; with the aim of bringing nature into the community.
There are opportunities for natural play and a formal ball court that will keep ball games within a designated area. There is still be plenty of space to walk dogs, together with informal seating areas.
Whether the park is used to enjoy for its natural habitat, butterflies & birds or as a place to walk and play, we hope the community can take ownership of the improved space and look after it as if it was their own.
Councillors voted in favour of progressing these landscape improvements at area committee on 16th January 2013.
The transformed open space has been named Stanley Green Park, reflecting the new investment and higher quality facility.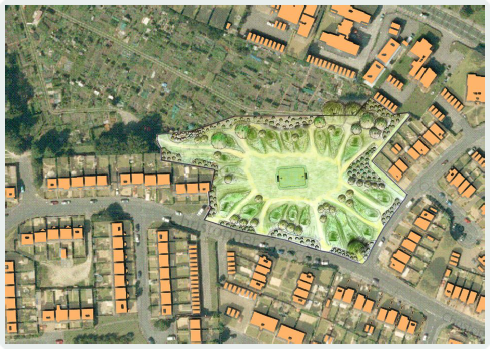 The approved plan, click to open a larger view
27th March: Stanley Green First School helping out with the planting at Stanley Green Park
27th March: Stanley Green First School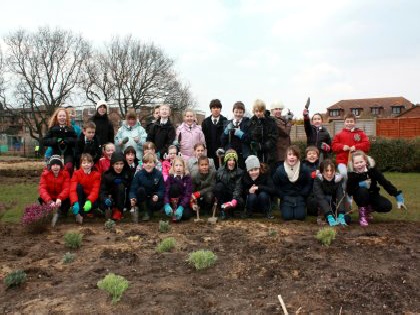 28th March: Oakdale South Road Middle School take their turn with much enthusiasm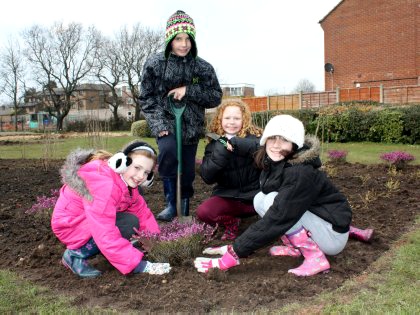 28th March: Oakdale South Road Middle School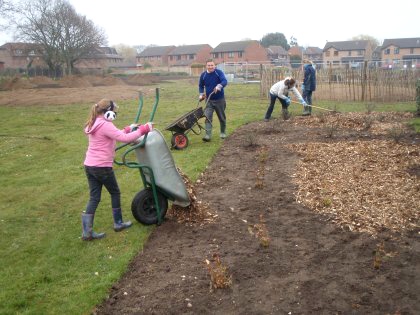 10th April: Local residents and other volunteers dig in
Click on any image below to enlarge it / view the photo gallery:
You helped transform the new park!
On Wednesday 10th April local volunteers came out to do their bit, planting some of the 740 new shrubs that will help transform the space. We also started topping up the shrub beds with wood mulch to keep the weeds down and a big thank you to everyone who helped.
On Thursday 11th April around 15 volunteers from the Dorset Wildlife Trust helped to plant around 50 fruit trees. With some especially difficult digging and a rather wet site some of this work was quite challenging, but the volunteers made light work of things and the new Park has really started to take shape with the trees and shrubs now in the ground. Hopefully some warm weather in the next few weeks will bring things to life!
Both Stanley Green First School and Oakdale South Road Middle School have also helped this project, with shrub and tree planting on 27th and 28th March.