Privacy Policy • Cookie Guidance
© 2014 Borough of Poole Environmental Development Team, Unit 1 Newfields Business Park, 2 Stinsford Road, Poole BH17 0NF. All rights reserved.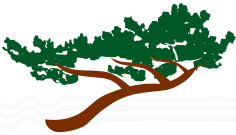 Ashley Cross Green formerly Parkstone Park
Last news update: 28th June 2011
Project Details
Budget: £360,000
Funding: Planning Obligations (Parkstone Ward)
Landscape Architect: The Landscape Practice
Victorian fountain restoration: Barr & Grosvenor Ltd, Wolverhampton
Main Contractor: C J Lee & Sons of Fordingbridge
'S for Squirrel' seating custom made by RGM Welding, Poole
Historic postcards & references courtesy of Paul Hillman
Lead Officer, Borough of Poole: Richard Nicholson
Project Officer, Borough of Poole: Sarah Austin
Officially opened and renamed
Saturday 25th June 2011 the renovated park was officially opened and renamed 'Ashley Cross Green' by the Mayor of Poole, Councillor Graham Wilson
The works in brief - we have:
Created more of a 'welcome' at main park entrances

Resurfaced footpaths throughout the park

Replaced the fountain with one of traditional, Victorian design (

more information below

)

Created an informal 'performance space' with electric power supply that might also be used (for example) for a Christmas tree and carol singing, or as an outdoor exhibition area by local artists

Added a range of informal seating options to the traditional park benches that have been a feature of the park for many years

Created an informal 'play path' for very young children

Introduced a Pétanque terrain (two pitches) for casual or organised use by all ages (

more information below

)

Installed a community notice board
It is hoped that some funding will also be available to make improvements to boundary hedge planting.
Following wide-ranging consultation with residents and other users between 2007-2009 we changed the original proposals that involved installing traditional park railings, and associated gates, along the frontages with Commercial Road and Station Road. Many people objected to the proposal, some simply on the grounds that they felt it would be a waste of money, others suggesting that they would feel less safe in an enclosed space.
The Contract for this project was awarded in December 2010 to C J Lee & Sons of Fordingbridge.
Petanque Pitches
Anyone wishing to play petanque can find all the equipment they need at Le Bateau bar & restaurant, opposite the park along Commercial Road.
There is no charge for the use of the pitches and equipment but Le Bateau will require a £20 refundable deposit while items are out on loan.
Block bookings for groups or clubs interested in playing pétanque there regularly can be made with staff at Le Bateau. Notices about how to play, where to get equipment and how to book are available at the park.
About the 'new' fountain
Initial proposals for a new, contemporary fountain were not popular with those residents and council colleagues involved in the public consultation, and a search was instigated for a traditional, Victorian-style design.
Early in 2010 we were delighted to hear that the Landscape Architects contracted to the project had managed to source an original cast iron Victorian fountain which appeared to be in fair condition and the perfect size for a small park. It was then restored for us by architectural restoration specialists Barr & Grosvenor of Wolverhampton.
The fountain is approximately 2.5m / 8ft tall (or 3.2m / 10.5ft including its plinth. It features two bowls (0.9m / 3ft and 1.7m / 5ft diameter) and is topped by an otter and fish figure.
We understand it was manufactured by McDowall, Steven & Co Ltd at the Milton Ironworks in Glasgow in the late 1880s or early 1890s.
During our research we also discovered three other surviving examples of the original sized fountain surviving; two in Scotland - 'Stevens fountain' on the sea front in Ayr (dated 1892) and at Wilton Lodge Park, Hawick - both of which Barr & Grosvenor visited for reference during the project to restore our less complete model, and a third in Morrab Gardens in Penzance.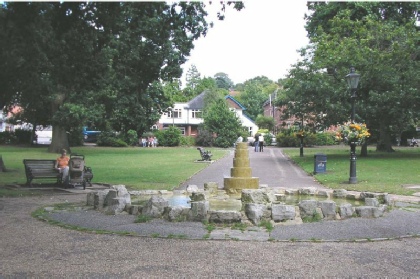 The fountain that was replaced (photo 2008)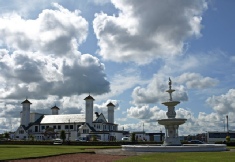 The original fountain in Parkstone Park (photo circa 1936)
'Stevens' fountain on the seafront at Ayr
Wilton Lodge Park, Hawick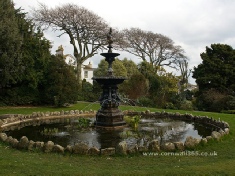 Is this the one we found?
Ashley Cross Green, Poole
Glasgow Cathedral Square
An even grander version (right) was supplied to the 1888 Glasgow International Exhibition in Kelvingrove Park, and was re-erected in the city's Cathedral Square in 1860, where it survived until the 1940s.
It was believed to have been scrapped c.1960 but recent research conducted by John Bolton of the Scottish Ironwork Foundation suggests that the top section survived, and there is an outside possibility that the new fountain in Parkstone Park is actually the top section of the fountain from the Glasgow Exhibition.
Photo and research courtesy of the Scottish Ironwork Foundation