Alexandra Park improvements
Updated 11th July 2018
The Project
Planning Obligations (Developer Contributions) funding is available to spend on 'equipped play' (£47,000) and 'casual play and amenity open space' (£35,000) within the Penn Hill Ward. Alexandra Park is a popular and well-used open space and has been selected to benefit from new investment.
We are actively looking to members of the community to take part in the consultation and planning of improvements, and would be very grateful for your input:
The project aims and considerations are outlined below; please read through them before passing on your views through our  survey. This initial consultation will close at 5pm on 6th August:
*the freepost address can be found at the end of the survey form.
Come & talk to us; consultation sessions in the Park, opposite the play area:
14:00 – 16:00 on Monday 16th July
13:00 – 18:00 on Friday 27th July
10:00 – 13:00 on Saturday 4th August
We will also be looking to develop a 'friends of' group that will partner with the council in the management and decision making process of this important local green space.
Project aims
The team aims to improve the play, recreational and leisure opportunities within the park, and enhance its aesthetic appeal by:
Renovating the current equipped play area with particular attention to "natural play" elements
Undertaking works to improve informal supervision and promote feelings of security and well-being among users
Updating current signage
Renovating existing benches
Relocating existing bins
Carrying out tree and shrub works
Project considerations
Alexandra Park offers a good variety of play opportunities for a wide age range. Equipment was installed over a period spanning 1989-2010; the older pieces (some approaching 30 years of age) are showing distinct signs of wear-and-tear.
The majority of the play provision for younger children is contained within the fenced area and includes a mix of traditional equipment set in rubber surfacing, and more 'natural' low timber elements on the grassy slope. This project will consider the age, arrangement and play value of the current provision.
For a wider age group there is a zip wire, basket swing and rebound wall, a basketball hoop and youth shelter within the body of the park. The project will consider the current use, function and best placement of these pieces and/or any that replace them.
The implications for maintenance and inspection budgets must be a consideration of this project; good, sustainable design will be an important factor.
Alexandra Park has strong Edwardian design elements; previous projects have vastly improved the parks entrances and infrastructure and also the feel of being within an open space that has character and history. The team are mindful that any proposed changes to the hard or soft landscaping will require sensitive design.
The fenced play area at Alexandra Park, with traditional play equipment in rubber surfacing and 'natural' timber play on the grassy slope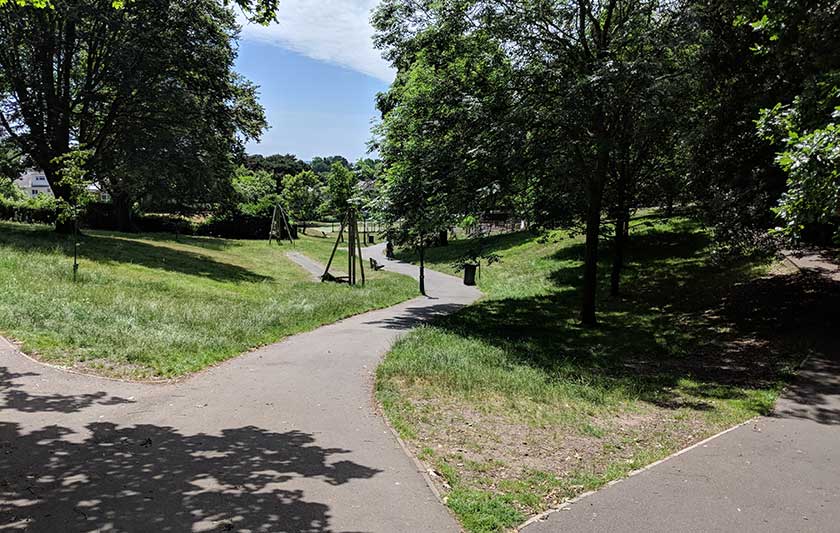 Looking south from Alexandra Road, the zip wire is on the left, the fenced play area on the right (obscured by trees)
Further information
The history of Alexandra Park is described at Wikipedia, adapted from a document prepared in 1995 by Paul Hillman (decd), local historian and Borough of Poole Landscape Architect from 1989-2008.