© 2017 Borough of Poole Environmental Development Team, Unit 1 Newfields Business Park, 2 Stinsford Road, Poole BH17 0NF. All rights reserved.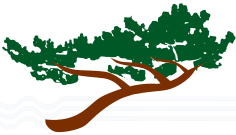 Parks & Open Spaces Please subscribe below to receive our newsletter: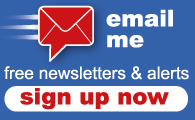 Springdale Recreation Ground (work commenced mid September)
The play equipment at Springdale Rec is considered to be in relatively good functional condition and not in need of replacement, however the relocation of some equipment is seen as a priority, ensuring better use. Existing play equipment will be enhanced by maintenance work; predominantly stripping and repainting.
Three heavy spring-loaded gates are installed in the perimeter fencing of the play area, one of which is permanently locked; the two main access gates will be replaced with lighter-weight self closing gates. Work to replace 'loose crumb' material within the safety surfacing will reduce maintenance time and therefore cost.
Some works have already been undertaken to drain the surrounding areas and a footpath has improved access.
Broadstone Ward equipped & casual play improvements 2017
The project
A little over £40,000 funding is currently available from Planning Obligations (Developer Contributions) within the Broadstone Ward - £17,353 for 'casual play and amenity open space' and £22,917 for 'equipped childrens play'.
The casual play contribution is 'at risk' in 2015/16 and equipped play in 2017/18. Planning guidance suggests that funds be allocated for improvements to existing facilities that allow casual play or to enhance the green environment.
Due to the current pressures on play budgets any improvements, rather than looking to increase provision, should focus on (a) replacing equipment that is near the end of its useful life or (b) relocating current equipment to better, more functional areas that allow good access and 'free flowing' play.
Within the Broadstone ward are two sites - Springdale and Broadstone Recreation Grounds - that are suitable for, and would benefit from improvement. Both venues have been assessed by appropriate Borough of Poole officers, and the comments of the relevant play inspectors taken into account with regard to the expected lifespan, 'functionality' and ease of repair of each piece of equipped play.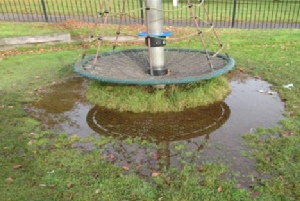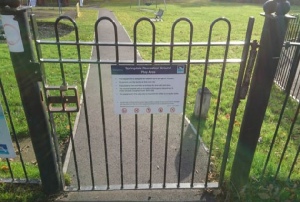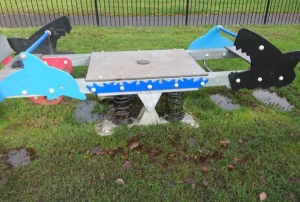 The area is prone to local flooding, making some equipment unusable
Heavy spring-loaded gates to be replaced
The play area would also benefit from an increase in more strategically placed bench seating.
Within the wider Springdale Recreation Ground evidence of dens and drinking was found among the trees and shrubs that border residents property and some management works have already been undertaken. Continuing this management is likely to remove any future risk of nuisance to neighbours, whilst encouraging greater passive surveillance of the site. Property boundaries are secure and management would not compromise security.
More strategically-placed seating required
Regular tree and shrub management proposed
Broadstone Recreation Ground
Play equipment within Broadstone Recreation ground is in fair condition, the main concern on site is access and free flowing space.
Access could be improved considerably by the relocation of the current gate and improvement/extension of the footpath.
The play area is currently set on several levels and 'dash' barriers segregate each piece of equipment. Barriers to moving play (e.g. swings) are an important safety consideration but ease of movement around play in general should be considered for both children and their carers. Improvements would provide great benefit, particularly to those users that are less able or have mobility problems.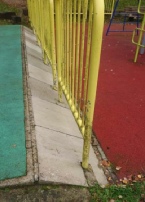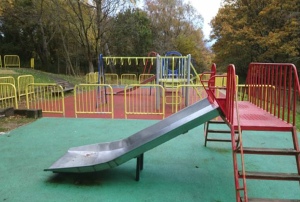 Current location of the main access to play
Level changes and dash barriers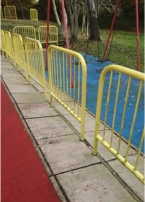 Barriers to free flowing play
Not all items of equipped play comply with current safety guidelines due to their age; we propose to remove/replace the junior slide on which the depth of ladder treads and distance between treads is less than ideal. A new junior slide may be re-sited to an area that currently houses two springers.
It would be desirable to remove and re-landscape some areas of the play area that harbour detritus and detract from a natural feel. Some retaining brickwork has been constructed on top of timber sleepers that are now showing signs of decay and we are hoping to remove/replace/re-design these areas.